Marine Environment Air Systems
Marine Environment – Specialist Compressed Air System Solutions
A comprehensive range of KAESER Marine Environment air systems features rotary screw compressors, rotary blowers and air treatment components specifically designed for demanding marine environment applications.
Specialist solutions include application-specific service air, compressed air for nitrogen generation and blower air for wastewater treatment systems on large cruise ships. KAESER marine products are certified by all of the marine classification societies. They are valued as much for their reliability as their energy efficiency and long service life.
Kerr Compressor Engineers is the sole Authorised Distributor of KAESER products in Scotland. We are part of a global operation working in partnership with HPC and KAESER Kompressoren SE, the screw compressor and compressed air equipment manufacturer.
Dependable & Durable
In this specific and demanding environment, compressed air production is a matter of trust. Above all, this key energy source must be available when and where you need it. The outstanding build quality and engineering of KAESER marine products provide peace of mind. Strong vertical integration combined with an optimised mix of experience, expertise, creative technical innovation and strength firmly supports these quality aspirations.
Excellent accessibility to all maintenance and service-relevant components minimises service effort and costs. KAESER rotary screw compressors and blowers are highly resilient in extreme operating environments. Even in hot machine room conditions, they operate efficiently and dependably. Special models are available for ambient temperatures of up to 50 and 55 °C (standard models 45°C).
Where is Compressed Air used in a Marine Environment?
Compressed air, low-pressure air, vacuum and portable air is used for various processes and applications onboard vessels and in marine environments. Examples include:
---
Tailored On-board Compressed Air Solutions
An extensive range of proven, dependable KAESER products comprising electric and diesel-driven compressors, air treatment components and rotary blowers is available for every conceivable application, enabling our marine environment experts to provide a specially tailored compressed air system solution for all marine air system requirements and any on-board environment. The combination of power, safety and durability makes KAESER starting air compressors the ideal choice to provide starting air for marine engines.
---
On-board Nitrogen Generation
Dependable nitrogen generation is available from KAESER screw compressors that range from 0.25 to 85 m³/min with a
constant pressure up to 14 bar suits every application on each ship. The engineering and design of KAESER Marine products strictly follow the demands of marine customers: Compact in size, easy to install and with excellent access to the maintenance components across the range. Quality refrigerant dryer options deliver the dried compressed air necessary for nitrogen generation. The self-developed SIGMA Control (with optional marine remote control) ensures safe operation and supervises all relevant parameters to ensure a long and reliable solution for onboard nitrogen demand.
---
On-board Working Air for every Voyage
Working air is required on every ship under the harshest conditions. With the standard working air range of 0.25 to 12.5 m³/min, KAESER has a solution for every general or specialist marine requirement. As an option, compressors can feature integrated refrigerant dryers and SIGMA frequency control (SFC). Marine certification is possible according to all classification companies.
Control air is required on every ship to operate valves and other pneumatic control devices. Depending on the vessel´s type and size, the appropriate compressor sizes are 15 – 45 kW. For the relatively high air quality levels required, KAESER marine products feature compact air treatment components, including refrigerant/desiccant dryers and filtration.
---
On-board Low Pressure Air
KAESER rotary blowers specifically designed for marine environment applications perform in all climatic conditions, and with years of proven dependability, they provide quality water treatment onboard ships. Supply and disposal facilities are required at sea wherever there are people – even temporarily. That is why appropriately dimensioned wastewater treatment systems are essential on cruise ships where crew and passenger numbers can total into the thousands. KAESER has a range of durable, energy-efficient, compact rotary blowers in various sizes and ratings to deliver a dependable oxygen supply to the bacteria cultures in onboard clarifiers. Rotary blowers and low-pressure air is also used in anti-heeling systems, which maintain a ship's trim during loading and unloading.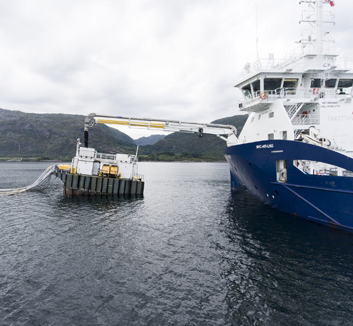 ---
Fish Farming and Aquaculture Air
Operators of Scottish fish farms and Aquaculture sites, whether on-shore or off-shore, rely on a reliable supply of low-pressure air and/or compressed air to ensure continuous, correctly dosed food distribution. This is another area where the many advantages of our experience, expertise and quality KAESER products provide significant advantages. A comprehensive range of rotary blowers and screw compressors means that the perfect system, or combination of systems, can be precisely tailored to suit any need. Please take a look at our Aquaculture industry page for more information and details.
---
Sea & Land Interface Air
Compressed air is the first choice when moving bulk goods. Whether loading or purging, rotary blowers and exhausters are reliable, long-term partners for energy-efficient air and vacuum supply. The specialised marine environment uses include:
Moving bulk goods – KAESER provide a wide range of rotary blower/exhauster systems and packages of various capacities for conveying bulk goods. According to requirement, the blower packages include completely integrated power electronics and are delivered ready for connection
Maintaining ice-free ports – Depending on the specific situation, rotary screw compressors and/or blowers are used to keep port entrances or vital navigation channels ice-free
Sound protection for marine life – installed on wind turbine platform construction vessels and in the case of Dolphin & Co.; KAESER portable compressors operate systems producing air bubble curtains to protect whales, dolphins and marine life from construction noise
---
KAESER Marine Environment Products Include:
Rotary Screw Compressors:
Rotary screw compressors deliver a reliable and efficient supply of quality compressed air. They are the preferred choice for users requiring constant pressure over prolonged periods. Compact, modular and space-saving compressor systems featuring package options complete with refrigerant dryers, frequency control and air receivers that are easy to position and simple to install.
MOBILAIR Portable Compressors:
Compressed air whenever you need it, wherever you need it – even under the toughest marine conditions: specially designed and modified powerful MOBILAIR Portable Compressors machines with advanced, fuel-efficient engines and heavy-duty construction are available in a wide range of models and configurations. Many models feature a rotation-moulded PE enclosure to ensure extreme dent resistance for the harshest marine and offshore conditions. Simple and intuitive operation and optimal maintenance point accessibility prevent unnecessary downtime.
Rotary Blowers & Exhausters:
Low-maintenance, highly reliable KAESER Rotary Blowers and Exhausters deliver pressurised air quietly and efficiently for multiple marine applications. These include the pneumatic conveying of bulk loads for onboard wastewater treatment, bubble curtains, and anti-heeling systems. Two different design concepts help to meet your specific requirements:
Rotary lobe blowers feature efficient, three-lobe OMEGA blower blocks for minimal pulsation effects
Rotary screw blowers feature the energy-saving SIGMA PROFILE – designed by KAESER for optimal pressure and output. Rotary screw blowers can save up to 30% energy compared to comparable roots blowers
Air Treatment & Storage:
Refrigerant Air Dryers and Compressed Air Filtration ensure dry, clean, quality compressed to ISO Standards by removing potentially harmful contaminants from the supply and combating the enemies of compressed air applications- water, oil and dust. Dryers, filters and specialist air treatment equipment provide effective, reliable protection against condensate damage or contaminants affecting your systems, processes and product quality. In addition, air receivers store and maintain large volumes of compressed air at pressure.