Air Compressor Hire Solutions
Affordable. Reliable. Flexible. | Quality Air Compressor Hire Solutions
Air Compressor Hire Solutions from Kerr Compressor Engineers provides an affordable, reliable and flexible compressed air equipment rental service throughout Scotland at competitive rates.
From individual air compressors, complete compressed air packages, portable, site and compact compressors, and high-pressure piston compressors to air treatment products for dry, clean compressed air; Kerr has a cost-effective Hire Solution for every requirement.
As the recognised fourth utility to UK manufacturing and industry, a reliable source of quality compressed air is most likely vital to your business's continued productivity and operational effectiveness.
There are many benefits to hiring quality equipment from a trusted source. We have highlighted seven ways that air compressor hire can help your business in our graphic or perhaps read our 'Know How' blog, 'To Hire or Not to Hire'.
Why Hire a Compressor from Kerr?
Compressed air specialists in Scotland for 40 Years, Kerr provide a fast, professional and friendly hire service supported by experienced personnel and quality equipment, meaning that you can hire quickly, safely and confidently.
Kerr Compressor Hire Solutions are available for short, medium or long-term periods. Providing expert, professional advice from years of knowledge and experience in the Scottish compressed air generation industry enables our expert Hire team to accurately assess your requirements before discussing and agreeing on the most affordable, reliable, flexible and cost-effective Compressor Hire Solutions.
Competitive hire rates – affordable hire solutions from a trusted compressed air specialist
Nationwide coverage – expert local support from our four established and highly regarded regional Sales and Service Centres
Quick delivery – extensive stock of equipment delivered quickly and directly, when and where required
Quality equipment – reliable and efficient equipment for every application and demand
Flexibility – short, medium, or long-term hire options, emergency response and flexible bridging solutions available
Covering the whole of Scotland, our expert team is supported by 25 experienced, factory-trained, specialist compressed air engineers.
Our Compressor Hire Solutions stock utilises only quality products and technology to provide energy-efficient and environmentally safe systems with additional options, including management control systems, dryers, filters, receivers, condensate drains and oil/water separators, all installed, commissioned and maintained in accordance with industry regulations.
When providing hire solutions, all installations are completed within the British Compressed Air Society (BCAS) Knowledge Base and 'Best Practice Guides' and in accordance with The Pressure Systems Regulations 2000.
Providing practical Compressor Hire Solutions whilst tailoring our service to each individual requirement, you will benefit directly from our investment in specialised training and through our many industry accreditations, standards and achievements. You can be assured of excellent support from your first point of contact and for years to come.
---
Air Compressor Hire That Goes Above & Beyond!
Have you read our case study? – 'KERR Air Compressor Hire Reaches New Heights'
Let down at short notice by their previous hire compressor supplier and with helicopter transport organised, S22 Contracting Ltd contacted us with a very urgent and important portable compressor hire requirement.
Responding quickly and professionally, our expert Hire Solutions team and our latest 230cfm – M65 portable compressor went above and beyond to ensure a very important Scottish telecoms infrastructure contract was completed on time.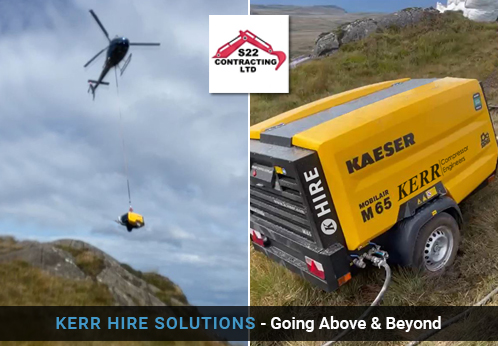 ---
Our Range of Quality Compressed Air Equipment for Hire Includes:
Rotary Screw Air Compressors
Rotary screw compressors supply production processes in industry, trade and workshop applications with a reliable supply of quality compressed air. They are the preferred choice for users requiring constant pressure over prolonged periods:
4kW to 160kW
Pressures up to 14bar
Fixed & Variable Speed
Package & modular unit options
---
Portable & Site Air Compressors
Compressed air whenever you need it, wherever you need it – powerful, KAESER MOBILAIR Portable Compressors with advanced, fuel-efficient engines are available in a wide range of models, pressures and configurations for every application:
Petrol, Diesel or Electric models
Pressure options from 7 to 14 bar
Compact & high performance
Durable, reliable & quiet
---
Specialist Piston Air Compressors
Ideal for fluctuating or low air demand requirements, specialist piston compressors are suited to high-fluctuation operation with load peaks for various applications, including trades, workshops, light manufacturing and small industry.
Pressures from 7bar and up to 300bar
Static, portable & base mounted models
Oil lubricated and oil-free options
Modular packaged systems, boosters and specialist stations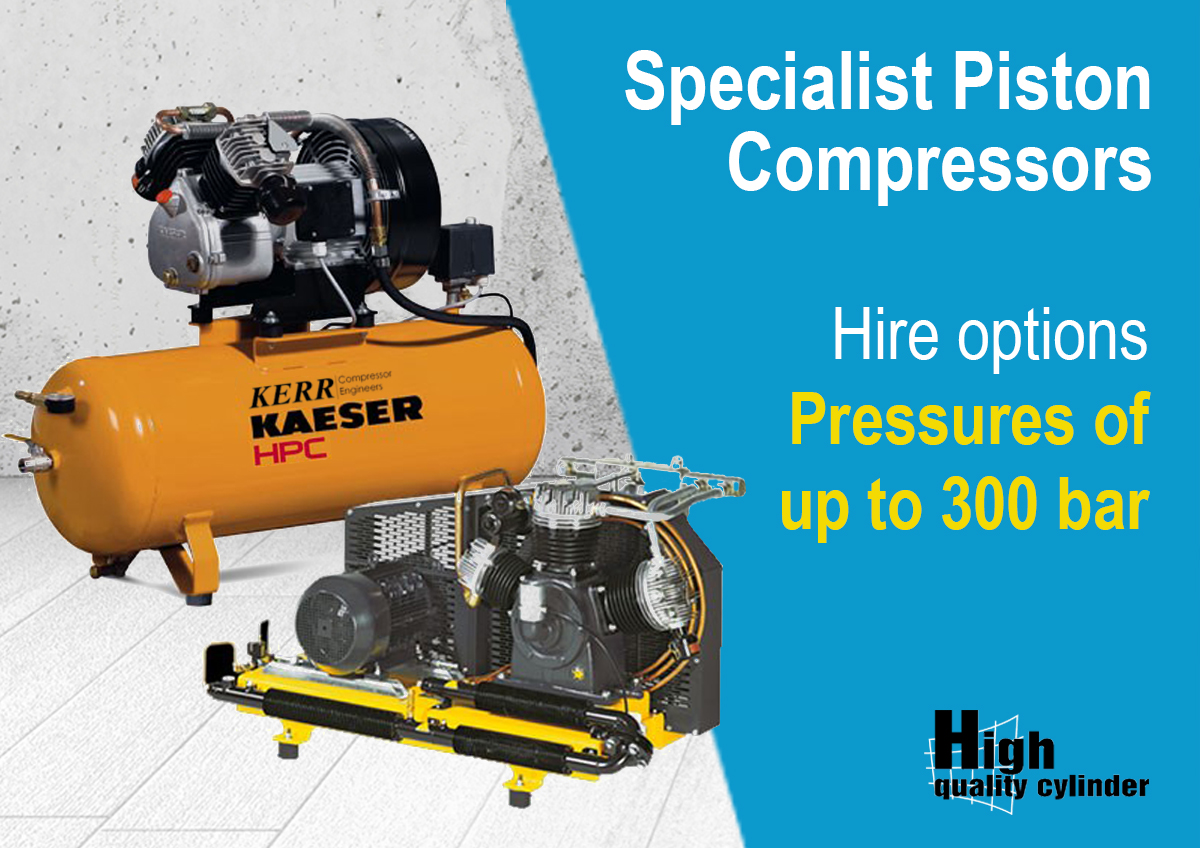 ---
Compressed Air Treatment Products
To ensure dry, clean, quality air to ISO Standards, Kerr air treatment products combat the enemies of compressed air applications- water, oil and dust. Dryers, filters and specialist air treatment equipment provide effective, reliable protection against condensate damage or contaminants affecting your systems, processes and product quality.
Refrigerant & Desiccant dryers
Filtration & Breathing Air
Condensate management / treatment products
Ensure high process reliability and optimal cost-efficiency
---
Compact Air Compressors
Compact, portable reciprocating compressors with a new drive concept and requiring no air receiver providing a versatile and dependable supply of oil-free compressed air at all times. Designed and constructed for flexibility and ideal for trade applications, site use, workshops, small businesses and private hire.
Practical, compact, lightweight and mobile
Constant pressure up to 11 bar
Flowrate up to 160 l/min
No need for oil level inspection or oil changes
---
Have you read our 'Know How' blog about when Hire might be the right solution? Click here to read – 'To Hire or Not to Hire?'
For expert assistance or further information on our extensive range of quality hire products and solutions, please contact our experienced hire team on
0800 008 6588 – web.enquiry@kerrcompressors.co.uk