KAESER Compressed Air Dryers
Compressed Air Dryers & Specialist Air Treatment- Innovation meets Efficiency
The KAESER range of compressed air dryers including Refrigerant and Desiccant dryers plus a series of Pre and After air filters, remove potentially harmful contaminants, such as water, oil, dirt, and odours.
Clean, dry, compressed air protects downstream pneumatics, tools, control gear, and ancillary pipework
from corrosion and contamination. The KAESER range of innovative Refrigerant and Desiccant compressed air dryers
can help achieve this reliably, cost-effectively and energy efficiently.
Drying
The atmospheric air drawn into a compressor is a mixture of gases that always contains water vapour.
However, the amount of water vapour that air can carry varies is mostly dependent on temperature.
As air temperature rises – which occurs during compression – the air's capability to hold moisture
increases also. When the air is cooled its capacity to hold moisture reduces, which causes the
water vapour to condense. This condensate is then removed in the centrifugal separator, or the
air receiver, downstream from the compressor. Even then, the air can still be completely
saturated with water vapour. This is why, as the air cools further, significant amounts of
condensate can accumulate in the air distribution piping and at take-off points. System failure,
production downtime and costly service and repair work are therefore unavoidable without additional
air drying.
Refrigerant Air Dryers
KAESER provide a range of efficient compressed air dryers Kryosec Refrigerant Air Dryer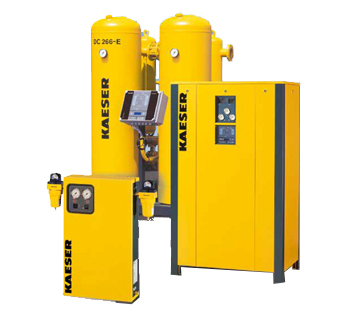 DESICCANT Air DRYERS
KAESER desiccant dryers operate efficiently to provide dependable low-pressure dewpoint of -40°c or -70°c
Refrigerant Air Dryers
Kaeser provide a range of efficient compressed air dryers Kryosec Refrigerant Air Dryer
Technical specifications
TAH – TCH series Flow rate: 0.35 to 4.50 m³/min
Exceptionally reliable and ultra-compact KRYOSEC refrigeration dryers typify renowned 'Made in Germany'
quality. They provide dependable drying in ambient temperatures up to +50 °C and ensure high efficiency
performance through their low maintenance design and the minimal pressure loss heat exchanger system.
With their compact footprint they are exceptionally versatile and are ideal for locations where space
is at a premium.
Lower pressure differential The dryer's stainless steel plate heat exchanger is complemented
by an air-air heat exchanger. Low pressure differential and high quality insulation ensure
energy-efficient operation at all times. The integrated condensate separator provides
dependable performance even under conditions with fluctuating compressed air flow.
Standard-compliant design KRYOSEC dryers fulfil machine safety requirements in accordance with
EN 60204-1. The high quality lockable on/off switch clearly indicates the switch position.
They are also equipped as standard with an integrated power supply isolating device.
Secotec Refrigerant Air Dryer
TA to TD series
Flow rate: UP TO 8.25 M³/MIN
SECOTEC refrigeration dryers reliably remove the moisture from compressed air while minimising
energy consumption. They feature premium quality components to ensure a long and dependable
service life. The cycling control enables significant energy savings.
Made in Germany: All SECOTEC refrigeration dryers are built in accordance with the very highest
quality standards at KAESER's plant in Gera.
As with all KAESER products, SECOTEC dryers are designed and built for maximum reliability.
The broad range of available models makes it possible to install the most suitable dryer for virtually any application.
Exceptional efficiency
The high capacity thermal mass is cooled down to cut-out temperature by the refrigeration circuit and
extracts the heat from the compressed air that flows through the heat exchanger. As soon as the temperature of the thermal mass
rises to the cut-in temperature the refrigerant compressor starts and cools it down again. This feature considerably reduces
power consumption compared with non-cycling controllers.
Saves energy:
SECOTEC control The SECOTEC cycling control significantly reduces energy consumption compared with conventional
systems with continuous control. The refrigeration circuit is activated only when cooling is actually required.
Minimal pressure drop
SECOTEC series dryers ensure minimal pressure drop thereby saving additional energy, as the required
maximum pressure is reduced.
No pre-filter
SECOTEC energy-saving dryers do not require a pre-filter (with piping unaffected by corrosion).
This translates into significantly lower investment and maintenance costs, as well as a lower pressure differential.
TE-TF Series
Flow Rate: 10.5 to 34 m³/min
The next generation: Even more efficient compressed air drying
SECOTEC – that's the name of KAESER's renowned industrial quality refrigeration
dryers that have long been valued for their stable pressure dew point performance,
their exceptional dependability and their low total life-cycle costs. Together with
the innovative SECOPACK LS latent heat storage heat exchanger system and the SIGMA
CONTROL SMART controller, the next generation of these advanced dryers sets new
standards when it comes to energy efficiency, compact design and user-friendliness.
Energy savings
SECOTEC TE-TF series refrigeration dryers require less than 87 W of electrical power per m³/min of compressed air (ISO 7183 A1).
Thanks to the energy-saving control, reserve cooling performance can be temporarily accumulated in the thermal storage medium during partial
load operation and can subsequently be used for drying purposes without the need for additional energy consumption. The rapid reaction
SECOPACK LS heat exchanger system ensures stable pressure dew points at all times.
Optimised and compact
The thermal mass storage section of the innovative SECOPACK LS heat exchanger system is filled with a phase change material.
Its significantly higher thermal storage density means that 98 % less storage material is required to achieve the same capacity
as conventional storage media. This impressive storage capacity not only ensures excellent pressure dew point stability,
but also drastically reduces space requirement. Optimised flow channels reduce pressure losses and further enhance the
energy efficiency of the SECOTEC TE-TF series dryer.
Intuitive operation
The electronic SIGMA CONTROL SMART controller with colour display and language-neutral menu design is simple and intuitive
to operate. Message memory, component-specific operating hours counters and maintenance timers enable efficient monitoring
and analysis of operating data. Floating contacts make networking with master controllers, such as the SIGMA AIR MANAGER,
quick and easy.
Long-term efficiency
The high quality cooling circuit in SECOTEC TE-TF series refrigeration dryers enables dependable performance in ambient
temperatures up to +45 °C, and optionally as high as 50 °C. The generously sized condensate separator and the electronic
ECO-DRAIN condensate drain ensure dependable condensate removal in all load phases. Durability is also increased through
the use of stainless steel compressed air piping and because the condenser and SECOPACK LS are made from aluminium.
The electrical equipment complies with standard EN 60204-1.
Desiccant Dryers Air Products
Low Pressure Dew Point with DC Desiccant Dryers
Series DC
Flow capacity 0.15 to 154.53 m³/min
Dependable Drying Power up to -70 °C
Meticulous design and quality ensure that KAESER DC Series desiccant dryers operate efficiently
to provide dependable low-pressure dew point performance at continuous load, even under the toughest
of conditions. The outstanding drying results are aided by generous quantities of KAESER's high quality
'SIGMA Dry' desiccant, as only a fraction of the material's initial load is used. Consequently,
this means that minimal quantities of purge air are required for desiccant regeneration, even after
longer than average periods of operation. In addition, long cycle periods reduce the number of flow
optimised components required for reliable, integrated performance, such as KAESER's pre- and after-filters.
Made from activated aluminium oxide, the desiccant has an exceptionally high adsorption capacity and its
regeneration capability provides sustained low-pressure dew point performance with minimal pressure loss.
The desiccant is also waterproof and mechanically stable, which makes it particularly suitable for long
periods of operation. Furthermore, specific pellet sizes are available to ensure optimal performance of
flow diffusers and sieve plates.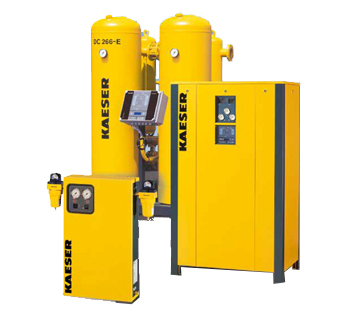 Compact Desiccant Dryer DC 1.5-7.5
The ten-minute treatment cycle ensures low-pressure dew points of up to -40°C, even with low compressed air demand,
and provides maximum system reliability. The space-saving, installation-friendly design with protective enclosure
is ideally suited to localised applications.
Compact Desiccant Dryer DC 12-133
Minimal pressure difference and low purge air requirement not only reduce both service and operating costs but also
reduce the demands on load, desiccant volume and filter size. Efficiency is further enhanced by the optional ECO
Control basic and ECO Control energy-saving controllers, which adjust dryer performance to match actual demand.
These compact units can be optionally equipped with protective enclosures and super-silencing; outdoor installation
versions are also available.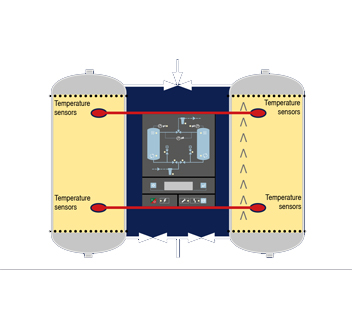 Large Desiccant Dryer DC 169-1545
With an open design and suited for pressures up to 10 bar(g), or optionally up to 16 bar(g), these large desiccant dryers
provide the same reliability and efficiency as their smaller counterparts. The modular construction enables easy transportation
and installation, whilst excellent component accessibility greatly simplifies maintenance and service work.
Combination with Activated-Carbon Adsorber
Available in sizes from DC 12 upwards, DC dryers are equipped with an ACT activated-carbon adsorber that is precisely matched
to meet dryer capacity. This consequently enables production of compressed air to the very highest standards (remaining oil
content < 0.003 mg/m³). Connection of the ACT activated-carbon adsorber is made simple by the frame construction of compact
desiccant dryers up to size DC 133.